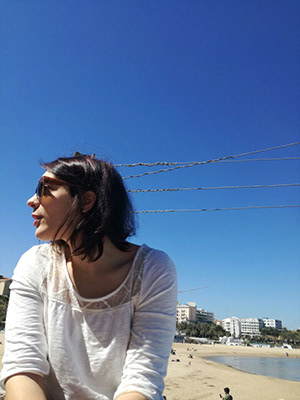 Sono nata il 23/11/1992 ad Ortona, piccola città di mare abruzzese. Dopo aver frequentato il liceo scientifico, mi sono trasferita a Macerata per iniziare i miei studi artistici, laureandomi alla triennale di Illustrazione sotto l'ala di Maurizio A.C. Quarello. SALTA! rappresenta la mia prima opera inedita, scritta e illustrata da me medesima.
Ho continuato i miei studi iscrivendomi al corso specialistico in Grafica Pubblicitaria ed Editoriale. In seguito sono partita con il programma Erasmus per Porto, frequentando per sei mesi la Facultades de Belas Artes sotto la guida di Eduardo Aires e Joao Martino. Al ritorno ho potuto sviluppare il mio progetto libro "Crisalide", con cui mi sono laureata il 23/02/2018
​​​​​​​.
I was born on 23/11/1992 in Ortona, a small sea town in the Italian region Abruzzo. After attending high school, I moved to Macerata to start my artistic studies, and I toke my bachelor degree in Illustration under the guidance of the illustrator Maurizio A.C. Quarello. "SALTA!" rapresents my first unreleased pictured project, written and drawing by me. 
I continued my studies attending a master in Graphic and Editorial Design. During this period I went, thanks the Erasmus program, to Porto, attending the Facultades de Belas Artes for six months under the guidance of Eduardo Aires and João Martino.On my return I was able to develop my book project "Crisalide", with which I graduated on 23/02/2018